December 16, 2022
Quad Cities Investment Group was excited to participate in the 2022 Family Resources Adopt a Family Program. As a team, we adopted two families to help make their holiday season brighter this year.
Family Resources is an organization committed to 'supporting successful lives to build strong communities.'
February 22, 2018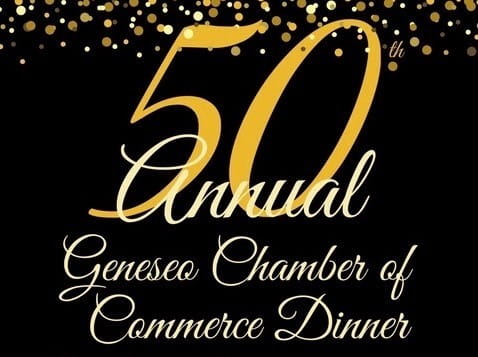 Quad Cities Investment Group was proud to be a sponsor of the 50th Annual Geneseo Chamber of Commerce Dinner, supporting a wonderful organization that does so much for its community. "Geneseo Chamber of Commerce; Where the future grows."
August 21, 2017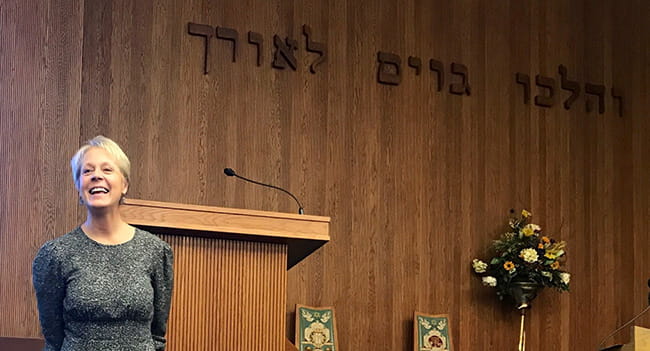 Laura was invited by the Sisterhood of Temple Emanuel to give a presentation on Human Trafficking. She spoke about elements of human trafficking such as what makes someone vulnerable, forms of control used to exploit trafficking victims, and how victims can get help. She also discussed federal and state laws concerning human trafficking, and showed the short documentary "Any Kid Anywhere: Sex Trafficking Survivor Stories." Click here to watch "Any Kid Anywhere"
Laura is a member of the advisory board for Braking Traffik, a non-profit organization dedicated to supporting and enabling the discovery of and response to incidents of human sex trafficking through a victim-centered, multidisciplinary, and collaborative community effort.
August 18, 2017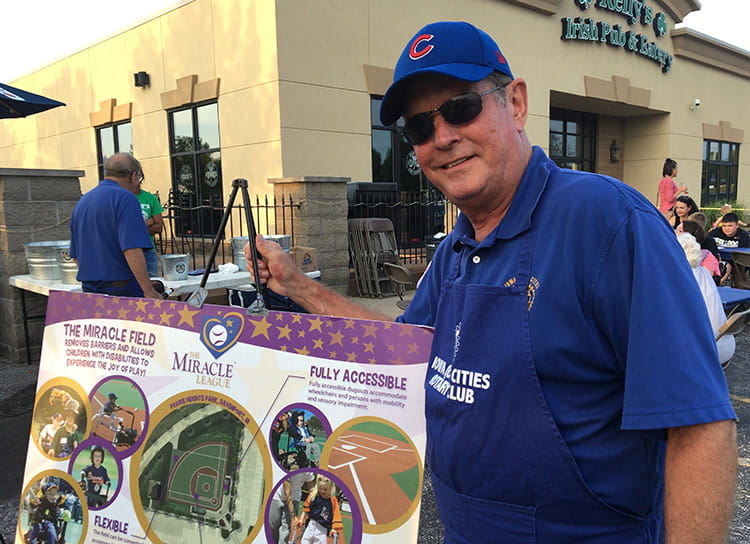 Quad Cities Investment Group was a proud sponsor of the Rotary for Kids BBQ to benefit Miracle Field- an ambitious undertaking, led by Davenport Parks & Recreation, to create a baseball field specifically designed to be physically accessible and safe for people with disabilities. The Rotary for Kids BBQ was held at Kelly's Irish Pub in Davenport and included a silent auction, raffle, delicious food, and fun games for the kids. Nearly 500 people attended this event which brought in over $25,000.
July, 2017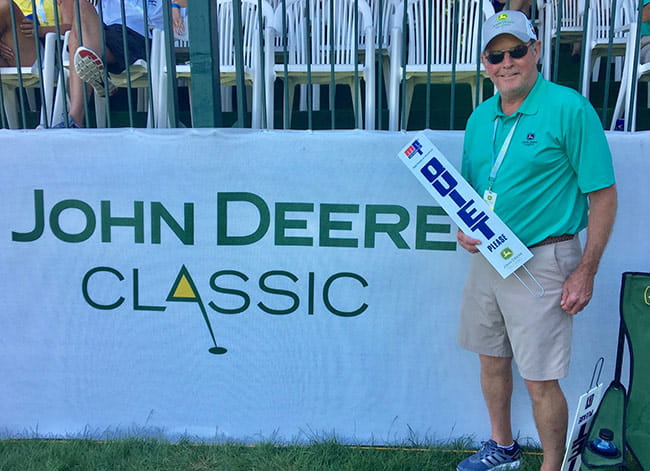 As a member of the Iowa Quad City Rotary, Dave once again marshalled the 16th hole at the John Deere Classic this year. This was his 14th year volunteering for the JDC. We're so proud of Dave and all of the work he does in our community.
May, 2017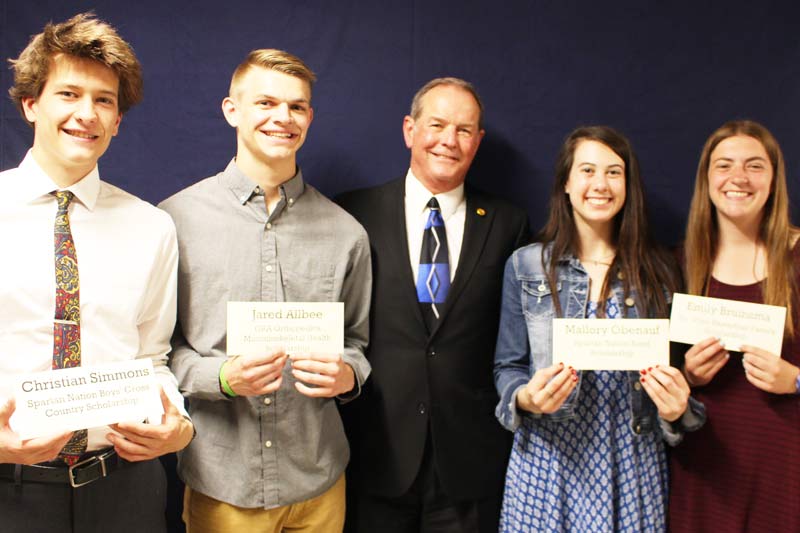 As President of the Pleasant Valley Educational Foundation, Dave spent the evening of May 10th awarding over $80,000 in scholarships to 79 graduating seniors of Pleasant Valley High School. In his remarks, he acknowledged the problems our world faces today, and went on to state that "every problem creates an opportunity; and opportunities are always looking for solutions that will be created, tested, and implemented by bright, creative, young minds offering fresh perspectives." He voiced his confidence in our future because of the caliber of the young people represented in the audience. We couldn't agree more, and we're so very grateful for the work he does with the Foundation to encourage and empower the young minds in our community.
May 7, 2017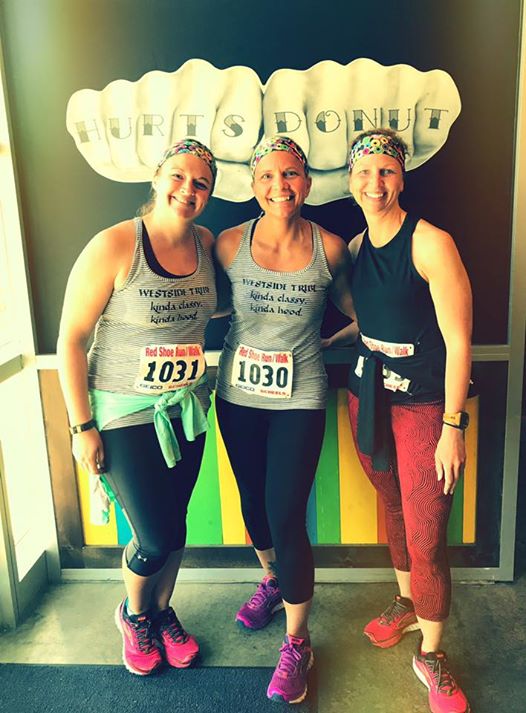 We are so proud of Jenny, who once again ran the Red Shoe Half Marathon last Sunday, May 7th. The event starts and finishes at the Ronald McDonald House of Iowa City and raises important funds and awareness for the organization. Rumor has it that at every hill, Jenny yelled "It's a beautiful day for a run!" We feel like this picture may offer a clue as to why she ran with such enthusiasm.
April, 2017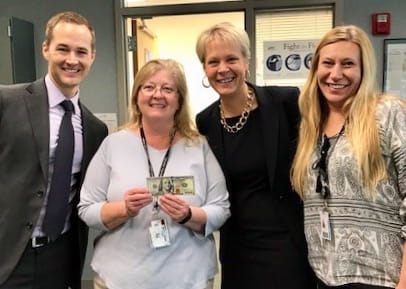 What would you do with $100 to teach financial literacy in your classroom? That's the question we asked educators on both sides of the river during the month of April - Financial Literacy Month. At Quad Cities Investment Group, one of our core initiatives is to inform and inspire people to learn about money and take control of their financial lives. Our Financial Literacy Facebook Challenge ended with surprise visits to 10 educators and their classrooms, awarding them the $100 to implement their ideas. Congratulations Marty Mahieu, Chris Larson, KayCee Cleaveland, Brandi Neer, Supt. Lanty McGuire, Lisa Hatlett, Britta Adams, Susie Vens, Katie Lacina, and Jeanene Keller! Thank you to the Moline Public Schools Foundation and the Davenport Schools Foundation for their help in coordinating this challenge. And a huge shout out to all the educators that participated; we are grateful to have such 'outside-the-box' thinkers working with the kids in our community!
April 29, 2017
Quad Cities Investment Group is excited to be a sponsor of this year's Friends of Trinity "Blossoms & Brunch" event on Saturday, April 29th. Christine and Laura had such fun at this event last year, meeting new people and learning about all of the great things Friends of Trinity does in our community. Funds raised benefit three ongoing Friends of Trinity programs: Caring Canines, Caring Closet, and Trinity's Prayer Shawl Ministry.
November 1, 2016
We are so proud of Christine for the work she does with the American Heart Association and #QCGoRed. This year, she served as Auction Co-Chair for the 2016 Quad Cities Go Red For Women Luncheon held on November 1st. Life is why.
October 7, 2016
Quad Cities Investment Group was once again a proud sponsor of the Family Resources Rising Up Against Sexual Violence Luncheon on Friday, October 7th at the Quad Cities Waterfront Convention Center in Bettendorf, Iowa. Funds raised at this event benefit Family Resources' SafePath programs, which provide advocacy, counseling, and education/prevention services to survivors of sexual violence, domestic violence, and trafficking.
September 8-10, 2016
Our own Mark Grywacheski served as Chairman for the 11th Annual Trains, Planes, and Automobiles Festival in Geneseo, Illinois on September 8-10. Events included a fly-in of iconic WWII Stearman biplanes, historic tours via golf cart along the Hennepin Canal, antique model train displays, and a car show which drew participants from across the Midwest. Quad Cities Investment Group was proud to be a contributing sponsor for this exciting event.
June 4, 2016
Quad Cities Investment Group was a proud sponsor of the Girl Scouts of Eastern Iowa and Western Illinois' One Tough Cookie Mud and Obstacle Run this year. Proceeds benefit leadership programs, helping girls learn to discover, connect, and take action to make the world around them a better place.
May 11, 2016
In his role as Pleasant Valley Educational Foundation President, Dave Borcherding participated in awarding 79 scholarships to Pleasant Valley High School seniors. Congratulations to all of the scholarship recipients!